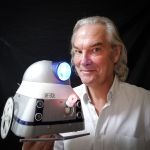 Science Magic... Magic Science
Age suitable for: All ages
Accessibility alert:

Loud sounds
Flashing images
Intense smell
Hearing loop available
BSL Interpreter (at one show repeat)
The show that works like magic to spell bind the audience, make them gasp, gape, wonder and laugh.

Featuring all demonstrations, strange and wonderful noises, levitating objects, flash bang and big sparks and the occasional funny smell, all done with some fantastic and rare equipment. You won't believe your eyes. Now with added Robots.

Performed and presented by Ian B Dunne this extremely amusing and diverting show is the one to see!

This is the show of Science Magic, it has mystery, suspense and laughs. From Infants to Infinity, suitable for all. Prepare to be amazed.


A British Sign Language (BSL) interpreter will be at the show starting at 11:30.

A few ear defenders will be available to borrow on a first-come-first-served basis at the entrance of the lecture theatre (to be returned once leaving the room).


* PLEASE NOTE: This event is free to attend but requires additional booking. To get your ticket(s), click on the blue button 'Book your ticket'.