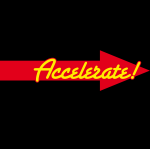 Age suitable for: 11+
Accessibility alert:

Hearing loop available
BSL Interpreter (at one show repeat)
Tactile activities for visually impaired
Accelerate is an interactive experience designed to get you excited about particle physics!

We take you on an immersive journey through the process of developing a particle accelerator, where experiments are performed to study the fundamental particles of the universe and observe their interactions.

The show doesn't require any prior knowledge of physics and hopes to pique the intrigue of young minds while also helping mend the disconnect between our everyday life and the world of high energy physics.


A British Sign Language (BSL) interpreter will be at the show starting at 14:00.


* PLEASE NOTE: This event is free to attend but requires additional booking. To get your ticket(s), click on the blue button 'Book your ticket'.